Lawn Mowing Mackay | GreenMan Property Services
Looking for a lawn mowing service in Mackay?
GreenMan Property Services provide a quality lawn mowing service in Mackay. We have several teams of trained lawn care workers covering the whole Mackay region so no matter how often you want your lawn mowed you can rely on GreenMan lawn mowing. We're a local, family run business and so Mackay is our home turf. We take pride in every lawn we service and have many satisfied Mackay residential and commercial customers trusting us with their lawn mowing needs. Read our customer testimonials and see what they have to say.
The best lawn mowing and lawn care service in Mackay
Using high quality mowing systems with up to a 62″ cut, we can slash, mulch or collect to leave the perfect finish. Whether it's a unit, house or footy pitch, we have the right equipment for the job!
We don't blast around the edges roughly with a whippersnipper. Every border we trim gets treated with a powered vertical edger. This ensures a clean crisp edge that'll last longer and look better.
Our attention to detail sets us apart from the others. We do those little extras that the others don't. We remove that palm frond, fix the weeds growing from the kerb and pick up that junk mail!
GreenMan standard regular lawn mowing and yard service
 We pride ourselves on doing a thorough job every time. Every GreenMan standard regular lawn mowing and yard services includes:
• Spray weeds with herbicide
• Remove green waste and dispose
• Blow down and leave tidy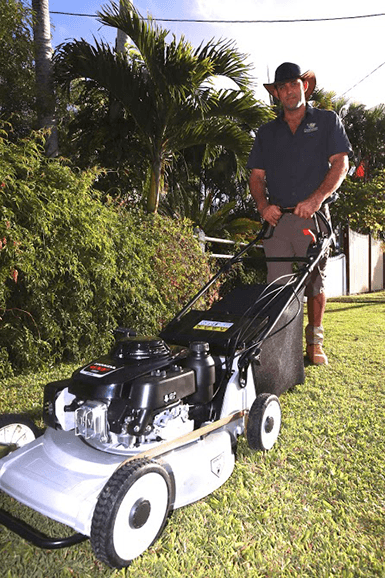 Keep your Mackay lawn looking its best
If you're lucky enough to have a lawn, you have to be responsible and take care of it. Mackay is famous for its amazing weather, perfect for green lush lawns visible in every backyard. Of course, the weather isn't the only thing that's responsible for those beautiful lawns you see all over Mackay.
Mowing the lawn, making sure it gets enough fertilizer, and watering sufficiently are all essential parts of making your lawn shine. This all takes a lot of experience and patience though. That's why opting for our lawn mowing and other lawn care services is always the best option.
With us, your lawn will be more beautiful than it ever was. You'll get the most stunning lawn in the neighbourhood without having to put much thought or effort into it. This is the perfect solution for busy individuals who take pride in taking care of their home but simply don't have the time to do it. Put your trust in us, and we're sure to provide you with the best lawn care and lawn mowing service Mackay has to offer.
Need help with more than lawn mowing in Mackay?
Got other property maintenance tasks in need of expert attention?
GreenMan Property Services can do that too.
Why choose GreenMan Property Services?
We understand that you can choose between more than one company for the best lawn mowing Mackay has to offer. That's why we want you to know why we're the best choice.